CARDONE Announces Winner of Mystique
U.S. Army Vet also Awarded $15,000 from CARDONE's Eight-Month Promotion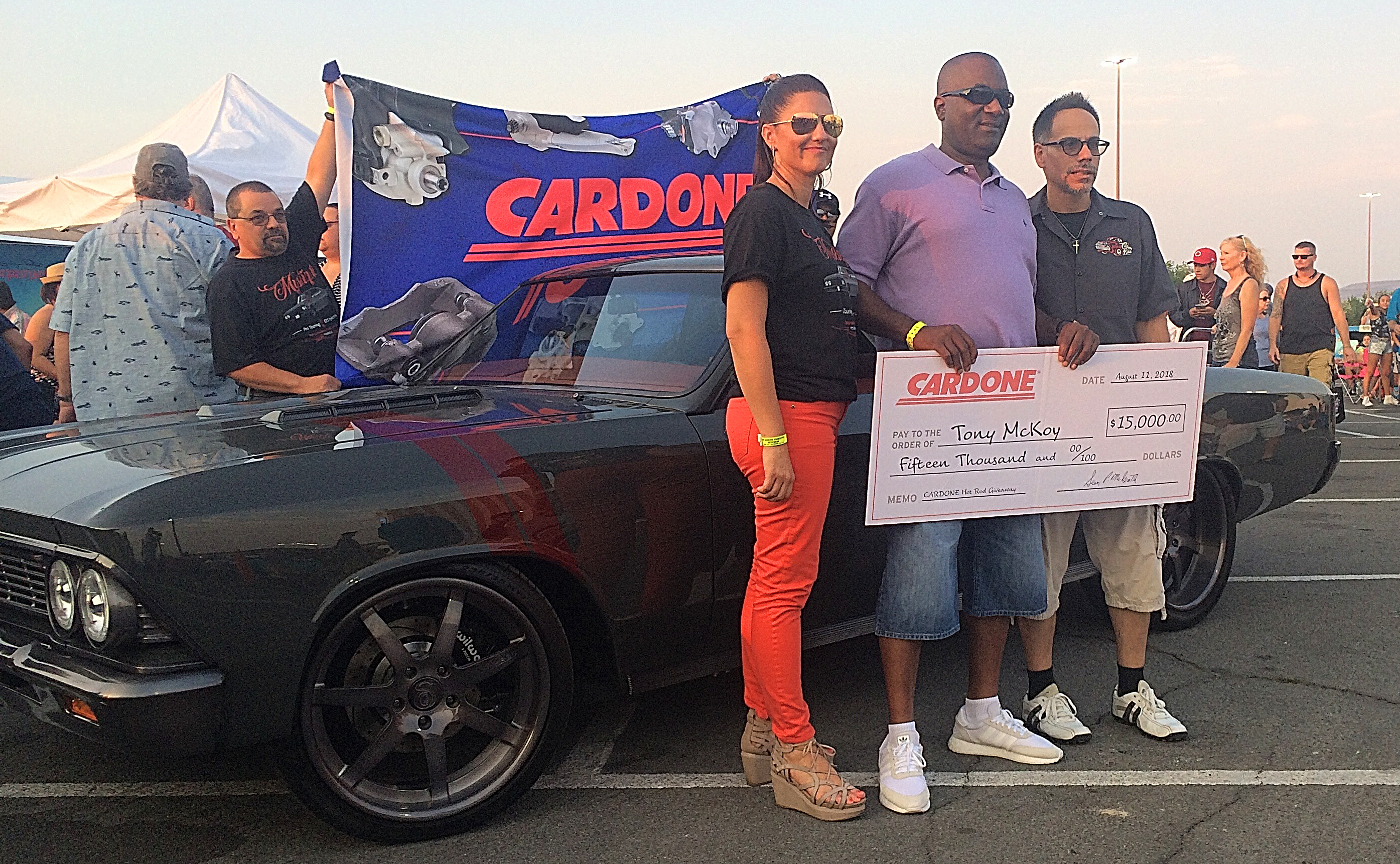 CARDONE Industries, recently partnered with Swag Custom Rides to restore and give away Mystique, a fully restored and reimagined '66 Chevy Chevelle. On Saturday, August 11 during the Hot August Nights car show in Reno, NV, Tony McKoy, a United States Army veteran from McDonough, GA, was announced the winner of the car giveaway, as well as awarded $15,000 and a full-expense paid trip to Hot August Nights.
The CARDONE sponsored giveaway received more than 8,500 entries from technicians and car enthusiasts across the country during the timeframe of September 22, 2017 to May 31, 2018.
Mystique, created by Swag Custom Rides, features an eco-friendly ethanol 383 stroker engine, an engineering twist that allows the car to run on both gas and ethanol.
More than 8,000 attendees were present when CARDONE's Chief People Officer, Christin Cardone McClave, and Swag Custom Ride's Founder and CEO, John Muratori, presented the vehicle to McKoy. "I want to personally thank CARDONE and Swag Custom Rides for this awesome ride," said McKoy. "Something told me to enter this amazing giveaway, and I'm glad I did."
"We're so happy to have partnered with Swag Custom Rides on this giveaway, because we believe in their mission to help at-risk youth transform their lives and find rewarding careers in the automotive industry," said Cardone McClave. "This was such a worthwhile promotion on many levels and I'm so pleased to see the winner is also a 22-year U.S. Army veteran."
About CARDONE
We are an automotive industry leader in aftermarket innovations and engineering. Three generations and four decades strong, we build new and remanufactured vehicle parts that meet or exceed O.E. designs, at a fraction of the cost. We remanufacture O.E. parts to meet the specific needs of our O.E.M. partners. Our global team supports a full spectrum of products and services, including a catalog of 46,000 sustainably-built parts. We build it better. Learn more at CARDONE.com.
About Swag Custom Rides
Swag Custom Rides is the first and only Automotive Custom Restoration Non-Profit Shop in America. Swag restores, customizes and fabricates vehicles with two missions in mind – restoring vehicles and transforming lives. Learn more at SwagRides.com.
Media Inquiries
Raquel Wenger
215-912-3742
[email protected]