CARDONE Jump Starts 2018 With More Than 250 New Parts
New Year Delivers First-to-Market Alternatives to O.E. in Key Applications
CARDONE Industries, has released over 250 new parts this month, including parts that were previously only available through O.E. dealers. Customers seeking throttle bodies and constant velocity (CV) drive axles for certain Hyundai and Nissan models now have a reliable, cost-effective alternative to O.E. parts. CARDONE's January release covered all major product groups and included parking brake motors and more than 125 domestic and import brake calipers.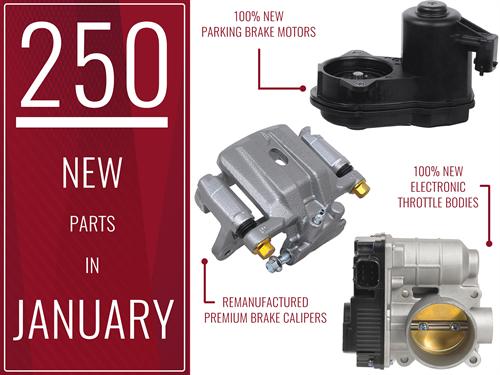 "With this large release at the start of 2018, we're continuing our push to give customers the breadth and depth of coverage that they expect from CARDONE," said Tim McClave, Senior Director, Product Management. "We're especially excited to be introducing part numbers that no other aftermarket new manufacturer is offering."
CARDONE New Throttle Bodies
This month, CARDONE released new throttle bodies for a range of vehicles, including 2007-2017 Nissan trucks. CARDONE is pleased to be the first manufacturer of an O.E. alternative to these high-demand parts for select Nissan trucks, which cover more than 2.4 million vehicles. Guaranteed to fit and function like the originals, CARDONE's New throttle bodies give customers an alternative to pricier O.E. parts. Features include:
100% computerized testing of motor, throttle position sensor and articulation that ensures reliable and consistent performance
Critical components — including housing, throttle plate, plastic cover with integrated electronics and position sensors, throttle actuator motor and throttle plate return spring — used in the manufacturing of the new electronic throttle body conform to O.E. dimensions and grade
CARDONE New Constant Velocity Drive Axles
CARDONE's Constant Velocity (CV) drive axle release included parts for 2013-16 Hyundai Elantras, making CARDONE the first manufacturer of an O.E. alternative for these applications. And, CARDONE's CV drive axles outperform O.E. standards in both durability and longevity. Through reverse engineering, CARDONE's engineers identified O.E. design weaknesses and improved both boot clamp and spline function. Features include:
100% Neoprene boots that resist bellow stress and ozone cracking with additional bellows
New axle nut supplied with every unit for hassle-free installation
Each axle is designed, tested and measured after assembly to ensure proper fit
Boot clamps are pneumatically crimped creating a perfect seal between the boot and housing
CARDONE New Engineered Technology ensures that all CV axles meet or exceed O.E. form, fit and function
High quality grease withstands high-temperature and high-torque demands to ensure long-lasting, reliable performance
Splines are precision rolled to ensure proper fit of axle into the mating hub and transmission, which eliminates installation hassles
Threads are precision rolled to ensure proper fit when axle nut is installed
CARDONE New Parking Brake Motors
The addition of parking brake motors for vehicles with electronic brakes to CARDONE's lineup offers customers a cost-effective solution to a typically expensive repair job. Features include:
100% tested to guarantee proper function
Hardware kit included for hassle-free installation
Plug connector and housing material meet or exceed O.E. performance
Ultrasonic sealed unit prolongs the life of internal components
Universal fit for left or right-side on most applications
CARDONE Ultra Premium Coated Calipers
CARDONE Ultra premium calipers provide superior weather and rust protection thanks to an exclusive silver powder coating. Each caliper ships with a complete installation kit — including mounting brackets and all necessary hardware — making installation fast and convenient. Other features include:
100% pressure testing that guarantees proper braking function
100% SAE specific rubber seals ensure like-new performance
New banjo bolts are included, where applicable, to ensure worry-free installation and proper seal
Trouble-free bleeding and a positive seal are achieved with new bleeder screws
Plastic cap plug-in brake port lines protect threads before installation
About CARDONE
We are an automotive industry leader in aftermarket innovations and engineering. Three generations and four decades strong, we build new and remanufactured vehicle parts that meet or exceed O.E. designs, at a fraction of the cost. We manufacture O.E. parts to meet the specific needs of our O.E.M. partners. Our global team supports a full spectrum of products and services, including a catalog of 46,000 sustainably-built parts. We build it better. Learn more at CARDONE.com.
Media Inquiries
Raquel Wenger
215-912-3742
rwenger@cardone.com