CARDONE Remanufactures Its Brand
New Brand Revealed at AAPEX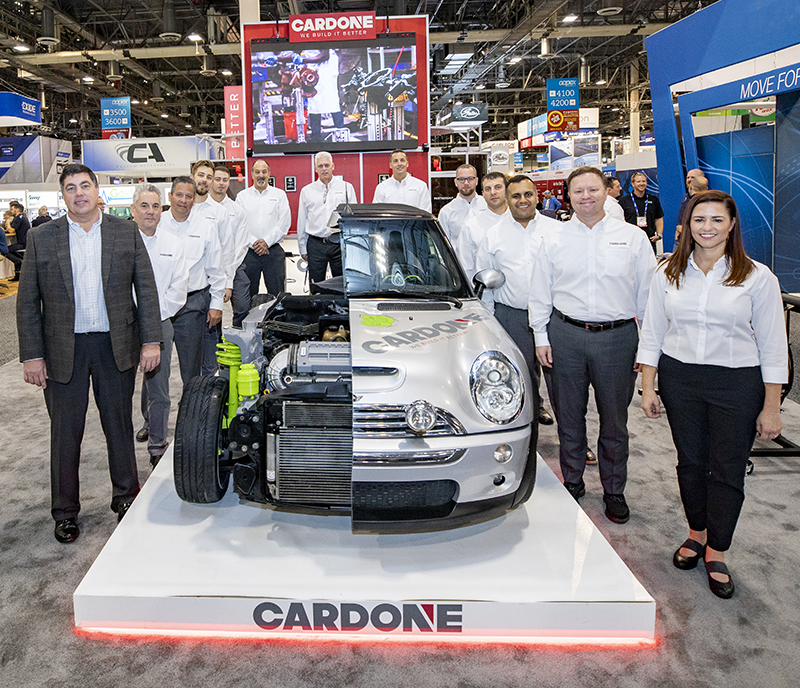 CARDONE Industries, has unveiled its new brand during AAPEX 2018 with a renewed commitment to modernize and provide industry-leading solutions to the automotive aftermarket. A leader in automotive innovation, CARDONE has re-engineered its brand and website to better serve customers and deliver O.E. alternative solutions.
"Engineers are a curious and adventurous group, always pursuing improvements and enhancements to today's products to create tomorrow's solutions. We celebrate that pursuit and re-engineered our very brand," said Stan Gowisnock, CEO and President of CARDONE. "As the leading global automotive remanufacturer, we saw an opportunity to remanufacture ourselves to demonstrate our customer commitment to innovation and continuous improvement."
Beyond new packaging and the refreshed logo, CARDONE has also redesigned its website to offer a more user-friendly experience for customers. Visitors to CARDONE's AAPEX booth will have the opportunity to preview the new site, and in mid-November, the new cardone.com will launch to the public.
"This is just the beginning and a glimpse of what we have planned at CARDONE," said Michael Cardone III, owner and Executive Chairman. "The automotive landscape is evolving, and we are evolving with it and poised to drive the industry into the future."
In addition to unveiling the new brand, CARDONE showcased its focus on innovation, quality parts and technician training during AAPEX 2018. The automotive aftermarket leader displayed solutions at its booth including:
Joining CARDONE were Swag Custom Rides and Rotomaster.
Swag Custom Rides, the nation's first and only automotive custom restoration nonprofit shop, partnered with CARDONE to build a fully functioning Mini-Cooper, intentionally cut in half in order to give young aspiring technicians an up-close look at how a vehicle runs and operates. The training vehicle was on display at CARDONE's booth throughout AAPEX, after which it will roll out across the country to drive engagement with the next generation of automotive technicians.
Rotomaster, a global leader in turbocharger engineering and the newest member of the CARDONE family, featured solutions for Dodge Rams, Ford Series trucks, and other medium- and heavy-duty trucks, as well as agricultural, off-highway, construction and marine vehicles.
About CARDONE
We are an automotive industry leader in aftermarket innovations, engineering and sustainable manufacturing. Three generations and four decades strong, we build new and remanufactured vehicle parts that meet or exceed O.E. designs, at a fraction of the cost. We remanufacture O.E. parts to meet the specific needs of our O.E.M. partners. Our global team supports a full spectrum of products and services, including a catalog of 46,000 sustainably-built parts. We build it better. Learn more at CARDONE.com.
About Rotomaster
Rotomaster, recognized worldwide as the industry leader in performance, innovation, durability and value, has designed, built and supplied top-of-the-line aftermarket turbochargers for more than 40 years. In addition to turbos, Rotomaster is committed to delivering quality cartridges, service kits and components that meet the rigorous standards of O.E. while remaining cost-effective alternatives. Rotomaster meets the demands of today, while creating designs that are built for the future. Learn more at rotomaster.com.
About Swag Custom Rides
Swag Custom Rides is the first and only automotive custom restoration nonprofit shop in America. Swag restores, customizes and fabricates vehicles with two missions in mind – restoring vehicles and transforming lives. With a team of leading industry professionals, Swag Rides provides job training, education and life skills for troubled individuals recovering from life-controlling problems like drug abuse or criminal conviction. For more information, visit www.swagrides.com.
Media Inquiries
Raquel Wenger
[email protected]