CARDONE Doubles Its New Window Lift Motor Assembly Program
3 configuration options + broadest coverage = a complete repair solution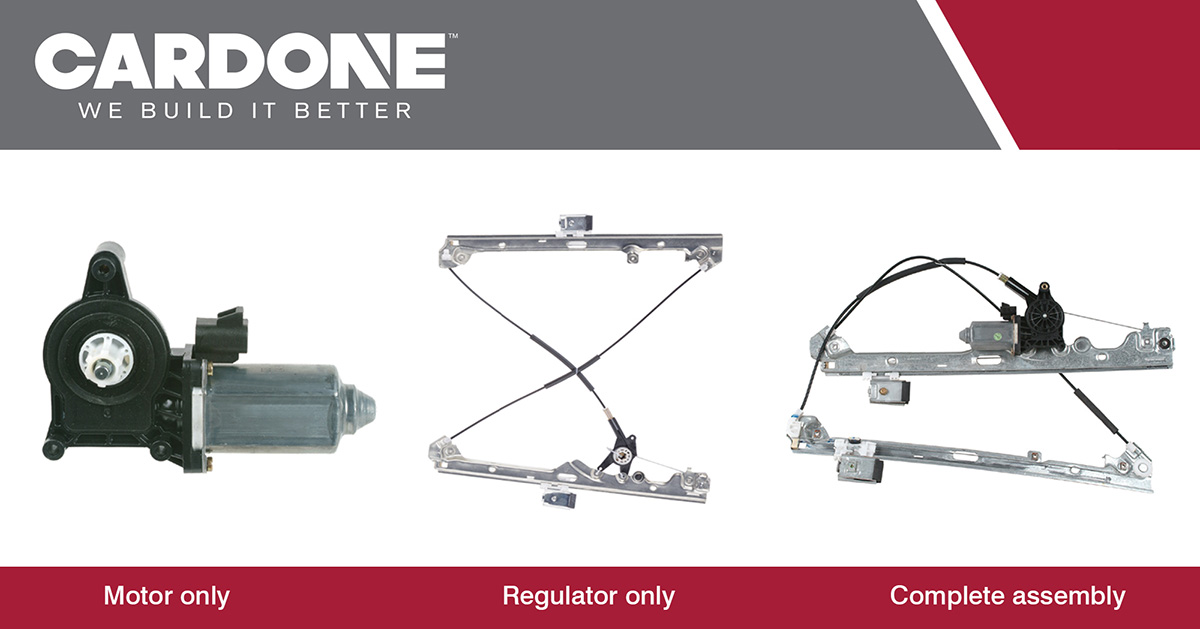 PHILADELPHIA, PA (February 15, 2021) -- CARDONE Industries, a leader in the automotive aftermarket, has more than doubled its New Window Lift Motor and Regulator Assemblies coverage to meet today's market demands. Combined with its existing remanufactured program, CARDONE now offers the broadest market coverage with three configuration options that cover over 90% of window lift motor replacements.
"We've seen an increase in the number of repairs that require the entire assembly versus the motor alone," said Mark Mooberry, Vice President of Product Management at CARDONE. "As technicians determine their best course of action to perform an economic and efficient repair, CARDONE is in lockstep with them to provide exactly what they need to complete the job."
By offering the full assembly, motor only, or regulator only, CARDONE provides a complete solution for today's technician. The expanded New Window Lift Motor and Regulator program also features engineering advancements that enable convenient, "plug-and-play" installation, paired with a limited-lifetime warranty.
For more information on CARDONE's Window Lift Motor product line, visit https://www.cardone.com/catalog/motors/window-lif...
About CARDONE
We are an automotive industry leader in aftermarket parts engineering and innovation. For five decades strong, we've built new and remanufactured vehicle parts that meet or exceed O.E. performance — at a better economic and environmentally sustainable value to consumers. Our global team supports a full spectrum of products and services for a diverse customer base, including O.E. manufacturers, warehouse distributors, fleets and retailers. Our passion for service excellence extends from our customers to the world through sustainable manufacturing practices and remanufacturing, the highest form of environmental stewardship. We build it better. Learn more at CARDONE.com.
Media Inquiries
Raquel Wenger
215-912-3742
rwenger@cardone.com