CARDONE Wins Two Awards for Aftermarket Content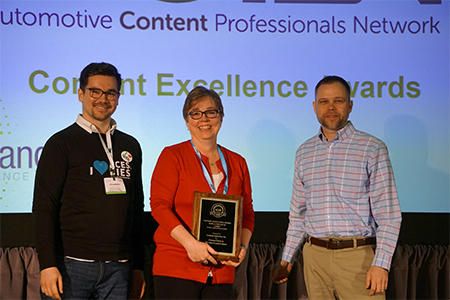 CARDONE Industries, a leader in the automotive aftermarket, received two Automotive Content Professional Network (ACPN) Content Excellence awards at the 2019 Knowledge Exchange Conference in Tampa, Florida.
The annual awards recognize the best examples of print and electronic cataloging in the vehicle aftermarket. Catalogs are judged on a variety of criteria ranging from compliance with best practices to readability and technical accuracy, innovation, interactivity, quality of content, and ACES and PIES XSD validation.
CARDONE's wins came in the ACES and PIES Data categories winning both the Large Applications Category (over 100k applications) for Friction Choice & FX Color Coated Calipers and the Small Applications Category (under 10k applications) for Rotomaster Turbocharger parts.
"It's our people that make the difference," said Pat Taylor, Director of Catalog Management at CARDONE. "Even the best systems could never fully replace the personal touch of the CARDONE team. The team puts an emphasis on meeting with customers to make sure we're providing the most accurate and useful data."
The two 2019 wins come on the heels of CARDONE's wins the previous year in Paper Catalogs and in multiple Receiver's Choice categories.
For a full listing of winners and for more information about ACPN and the Content Excellence Awards, visit www.autocare.org.
About CARDONE
We are an automotive industry leader in aftermarket innovations and engineering. Three generations and four decades strong, we build new and remanufactured vehicle parts that meet or exceed O.E. designs, at a fraction of the cost. We remanufacture O.E. parts to meet the specific needs of our O.E.M. partners. Our global team supports a full spectrum of products and services, including a catalog of 46,000 sustainably-built parts. We build it better. Learn more at CARDONE.com.
Media Inquiries
Raquel Wenger
215-912-3742
[email protected]